Overall Condition:
Excellent, no scratches on the helmet!
There is a tiny nick on the plastic visor (pictured below).

About 5 years ago my husband bought me a dirt bike and all the riding apparel that goes with off road motocross riding. I honestly can say that I tried it for a summer and didn't really like it. This helmet is practically new. When I stopped riding I put it up in my closet and wouldn't let any of my family members use it. I wanted to keep it in new condition. My son pulled it out the other day and suggested I put it up on Ebay. I'd like to add this is the most comfortable helmet I have ever worn. My biggest problem about helmets is the weight. I'd get headaches and my neck would hurt after just a small amount of riding time. My husband got tired of hearing me complain and was nice enough to purchase this high dollar helmet for me. It is so much more lighter than anything I have ever used!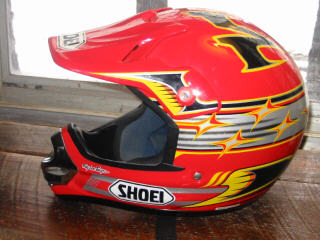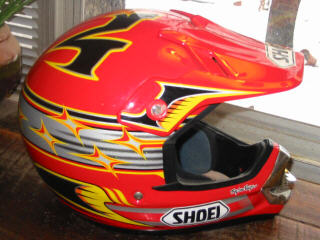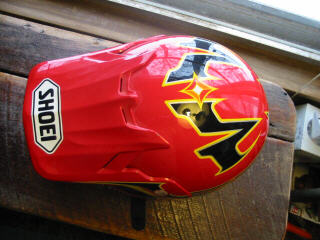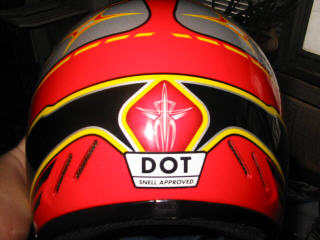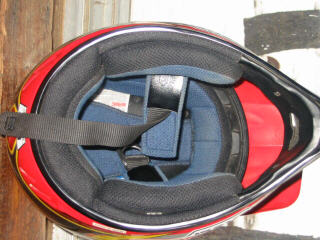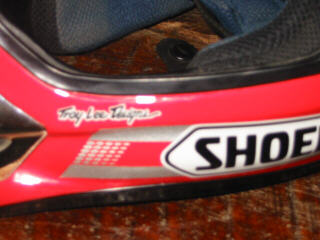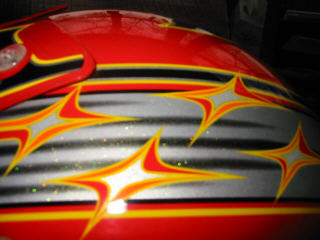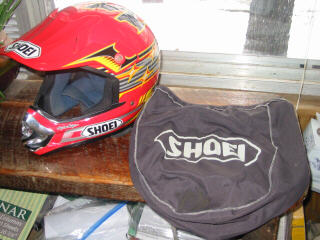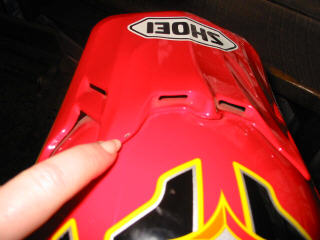 I surfed google for information on this helmet and found a review on webBikeWorld I thought I'd include in my listing b/c it has some really cool facts. Please note the below review was on a XL size helmet and up for auction is a large.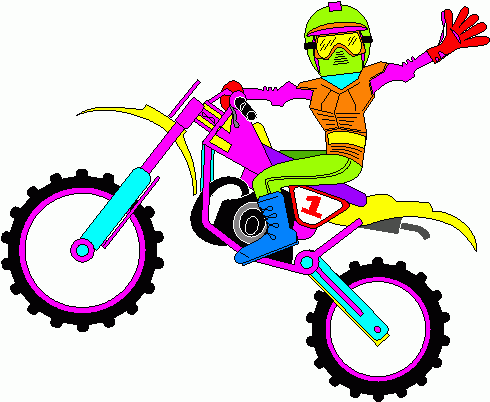 What's this? A motocross helmet in a webBikeWorld review?

The first thing we noticed about the VFX-R -- other than the cool-looking graphics -- is the weight. Or lack of it. At 1508 grams for a size XL (3 lbs., 5-1/4 oz.), the VFX-R is one of the lightest full-face (that's how we're classifying it) helmets we've every tried. It uses Shoei's Advanced Integrated Matrix Plus (AIM+) shell, just like their best street helmets.

See the wBW Motorcycle Helmet FAQ page for a chart that compares the weights of every helmet we've reviewed and you'll see that the VFX-R is the third lightest size XL we've tried. What's amazing is that even though our VFX-R is a size XL, it's lighter than every other size large helmet we've tried save two.

Now light weight isn't everything, but it sure helps. We think that light weight makes a huge difference in comfort, especially on a long ride. Maybe I have sensitive neck muscles or something, but heavy helmets are (literally) a pain, especially when riding in cross winds or behind one of those "Buffet-meister" fairing designs.

Light weight can be a sign of scrimping on the helmet's safety features, but the VFX-R is both DOT and Snell approved. I would think that the protruding motocross chin would make up for the weight lost in the big, wide eye opening, so I'm not sure where all the weight was lost. Which begs the question: why aren't other full-face helmets as light as this?

I'll admit that I've never worn a real, live, dedicated motocross helmet before, so I'm an absolute tyro when it comes to this type of gear. Sure, I've bounced around on dirt bikes, but never enough to justify digging deep enough in my pockets to buy focused dirt gear. And since we've never tried anything similar, I have no idea if the light weight of the VFX-R is normal or an aberration in this market.

Frequent webBikeWorld visitors will know that a couple of us have "earth" shaped heads (again, see the wBW Motorcycle Helmet FAQ page to learn more about different head shapes and fitting a motorcycle helmet), which frequently give us helmet fitment problems. The most common headform used by the helmet manufacturers seems to be the "egg" or "long oval" shape, that is, wider on top, narrower on the sides.

So when we find a helmet that fits a round or earth shaped head, we're golden. As soon as I slipped the VFX-R over my noggin, I was in heaven. This is probably one of the most comfortable fitting helmets I've ever tried, which I find amazing. I just didn't expect it!

The size XL fits me perfectly, and the fit is helped by the nearly unlimited chin room afforded by the motocross-style chin (I'll show my ignorance here about all things dirt: why do motocross helmets have such a big chin? Let me know at and I'll post the answer below in the "Comments" section).

The VFX-R is to chin room as scoring an exit row seat is to an overseas plane trip. It's great! The design not only frees up the space in front of my mouth, it also provides more freedom around my cheeks, which often feel crunched inside all but the earthiest of earth-shaped helmet interiors. I can literally wear this helmet all day long and feel perfectly comfortable.

So the fit, combined with the light weight, makes the VFX-R one of the comfiest helmets I've ever tried. So far, so good...

Wearing a motocross helmet means using a good pair of goggles, and my experience in this neck of the woods is also zilch. I did some research and talked to my dirt and Supermoto riding friends, who recommended the Smith Option OTG Airflow. This goggle was specifically recommended because it's designed to fit over eyeglasses, and it's also designed to provide enough air flow to prevent fogging.

The eye opening on motocross helmets are nice and wide for a reason. The goggles are designed to fit inside the eye opening (the area normally covered by a visor on a full-face street helmet), and the strap fits around the back of the outside of the helmet. The 33 mm wide strap on the Smith goggles have some nice silicone strips that give it a good grip on the helmet's surface and prevent the strap from riding up over the top of the round helmet shell.

It takes a while to get used to riding with goggles, because their thickness means that peripheral vision is somewhat diminished. But it didn't take me long to reorient myself, and the combination of the motocross helmet and goggles doesn't really feel that strange.

And there is a definite benefit to that big, wide opening in the front of the helmet -- plenty of fresh air! I get pinged once and a while on the few parts of my skin that are exposed between the goggles and the helmet's shell, but other than that, it's great (at least in the currently warm riding weather) to have all the ventilation I'll ever need.

The VFX-R has a couple of intake vents in the brow, underneath the removable visor, and two exhaust vents out back. There's also a vent in the front of that big chin, with its own foam dust filter. But it's impossible to tell if the vents are working, and they don't really seem necessary, at least during street riding speeds, because that big, wide opening allows all the air that's needed to keep cool.

The Shoei VFX-R is available in solid colors and a couple of cool-looking graphics. We really like the Air Pastrana 2 version, which carries all of Shoei's high standards of quality in every feature. The helmet's motocross visor must be assembled, but it easily screws in to the top of the helmet (we used a butter knife as a screwdriver!).

The liner material is very comfortable, just like Shoei's best street helmets, and it's removable, along with the cheek pads and even the strap covers. The chin or nose cover is attached with a tiny screw that can be removed to clean the dust filter. We're not sure why the chin cap wasn't designed to snap on and off, because it seems like it would be pretty easy to lose the screw.

Conclusion: Riding the Tiger with the VFX-R is a definite trip. It feels cool (literally and figuratively) and the image of a rider with motocross helmet and goggles but wearing full street leathers and race boots must give people a kick, because I swear I get more stares and waves when wearing this helmet than any other outfit I own.

Little kids seem to love it -- I'm not sure if it's because they recognize Travis' helmet colors (I doubt it), but they always point and wave, and lo and behold, even the cruiser riders who almost never wave when I'm wearing a full-face street helmet seem to open up at the site of "Supermoto Man". It's a lot of fun and fits the rugged image of the Tiger perfectly!

Some of the issues with the VFX-R include the cost, the noise and the fact that goggles must be worn. The VFX-R's list price is $579.99, which seems excessive, but the street price is somewhat lower. I can't do anything about the noise, but I'll try different brands of goggles to see if I can find one that fits over my nose with less interference.

If you own a BMW GS, Triumph Tiger, KTM Adventurer or other cross-functional motorcycle, check out the VFX-R and complete the look.