Issue 18: June 2006 (opened)


ATTITUDE/KNOWLEDGE: "Texas Demo Horses" (2hrs. 10min) with Pat, Linda, Tess & Logan, David & Chip.
Get ready for a riveting session of love, language and leadership in action with Pat, Linda and two demo horses in Fort Worth, Texas.
Linda plays with Logan, a five-year-old Mustang, and Pat with Chip, a five-year-old Grade QH gelding. Logan is perfect except..he invades your space, won't stop, ignores his rider, is hard to catch, bolts, bucks or shies, is needle shy and balks at trailer loading. Chip is perfect except...he is disrespectful, wants to do things his way, gets in your space, nips, and doesn't like trailer loading or being saddled. This session features a split screen format so you get to see every move Pat and Linda make-it's twice the savvy in one video!
IMAGINATION: "Parelli Games & Puzzle Solving-The Slalom Puzzle" (12 min) with Pat Parelli and Magic.
In this "how to" session, Pat demonstrates the steps for preparing your horse to play with his Slalom Puzzle from the Parelli Games. He shows how to isolate the steps and build the process to get your horse thinking and asking questions so it's all about the communication and doesn't become a trick!
FLASHBACK: "Horsemanship through Communication" (24 min.) with Pat Parelli and Salty Doc, Cal. Expo 1987
Taped 19 years ago at the 1987 California Horse Expo, Pat gives an action-packed demonstration (with and without a bridle) with his QH stallion, Salty Doc, and talks about regular people getting extraordinary results through "Attitude, Feel, Timing, Balance and SAVVY!"

Issue 19: August 2006 (unopened/new)
ATTITUDE/KNOWLEDGE: "Control, Confidence, Competence" (1 hr. 4 min.) with Linda Parelli and Allure.
Meet Linda's challenging Trakehner Warmblood, Allure! Linda shows what it takes to have a "successful" session with this playful, curious character in the round corral, on a 22-foot Line, in a large open field on a 45-foot Line, then saddling and riding. You'll get to really see Allure's "horsenality," how self-confident he is in himself, yet how unconfident he is as a learner. "He challenges me non-stop. Really causing me to be a leader. I have to play this great balancing act of being provocative and firm, yet playful and leave him with his dignity," says Linda.
IMAGINATION: "Meet Liberty Belle" (30 min.) with Pat Parelli, Liberty Belle, Mango and friends. Pat introduces us to the Parelli herd's gorgeous new arrival, Liberty Belle! In this session Pat, his son Caton and niece Amy, play with Belle and show how to introduce light exercise for the mare and obstacles to the foal to develop sensitivity and curiosity.
INSPIRATION: "Parelli Games with Evanne Prater" (16 min.) In this session, Evanne plays with her Trakehner Thoroughbred, Thunder Heart, in the Parelli Games on Tour in Washington (2005) and Oregon (2006). She is back on track to achieving her dream - playing with horses for a living.

Issue 20: September 2006 (unopened/new)
INSPIRATION: Liberty Duet - Double. the Fun! (35 mins.) with Pat, River and Nova. In this inspiring demo you'll get to see Pat play with these majestic gras at Liberty, with both horses together and then each horse separately, to help the students observe their similarities and differences.
Knowledge: Does That Horse Look Ridable ?(50 min.) with Linda, Rejean and Myst Ook. Linda helps Rej and his mare with her "Cover - All fears" and demonstrates the importance of how to use psychology to play with your horse on the ground to prepare for a harmonious riding experience.
The Journey: A Giant Leap from Level 2 to Liberty & Horse Behavior (26 min.) with Yvonne and Escada. This video shows past and present video of their recent relationship breakthroughs after compiling video material for the latest Parelli home study release, "Liberty and Horse Behavior."
Behind the Scenes: What does it take to set up a USA Tour Event? (2 min)

Issue 21: November 2006 (unopened/new)
ATTITUDE/KNOWLEDGE: - Long Line Magic ( 58 min) with Pat, Magic, Thunder and Lightning. Never before seen in public! Pat and his supermare, Magic, driving 'Thunder and Lightning' in their debut performance the September 2006 Savvy Conference!
'I want you to see there are 12 or more steps to one goal...' This is the teams' second session learning to pull the red sled, and Pat shows how he achieves confidence and lightness in stages using psychology and understanding.
2007 INTERNATIONAL CONFERENCES with Pat and Linda (30 secs).
A special note from Pat and Linda (recorded during the 2006 Savvy Conference) to express their excitement about bringing their horses to Australia 10 - 11 Mar and the UK 4 - 5 August, 2007.
TOOLS/TECHNIQUES - Zone 5 Driving with Allure, plus the Rachel and Amy Demo with Linda and Allure, Rachel & Dream Warrior, Amy & Prince (44 min)
After Pat's amazing demo with Thunder and Lightning, Linda brings in her exuberant Trakehner Warmblood, Allure, to demonstrate the beginning stages of teaching a horse to drive from Zone 5. Linda then invites Rachel and Amy into the arena with their horses, Dream Warrior and Prince, to show the levels they are playing at with driving their horses from Zone 5.
BEHIND THE SCENES: - Scrapbook of Thanks (8 min). If you're a frequent visitor to the Savvy Club Members forum at www.parellisavvyclub.com, then youŐve either contributed to, or seen the development of the special Scrapbook of Thanks created for Pat and Linda. Here you'll see what happened when Pat and Linda were presented with these wonderful gifts during the 2006 Savvy Conference.

Issue 22: December 2006 (unopened/new)
ATTITUDE/KNOWLEDGE: Bridleless Riding (1 hr 30 min.) with Pat and Magic. In this philosophy-filled session from the 2006 Savvy Conference Pat and his mare, Magic, share the secrets to riding without a bridle. Pat talks about seat connection, energy connection, preparatory commands, the "seat, leg and bit checks," how to breathe while riding, and where he learned the secret of riding with your belly button!
TOOLS/TECHNIQUES: "Collection Naturally" with Linda and Remmer (58 min.)
Linda talks about the "ABCs" of collection and how collection is not just about engagement, it's about grace, elegance, intimacy...and how to get mentally, emotionally and physically collected with your horse. ....AND MORE!
BEHIND THE SCENES: "Merry, Merry Christmas" ( 3 min.)

Issue 23: February 2007 (unopened/new)
COW PLAY AND PRE RIDE TRAINING: (1hr 43 min.) Watch as Pat introduces five-month-old Liberty Belle and shows how bringing up a baby in the Parelli Program has led to a level of confidence, understanding and exuberance that has her working cattle all on her own! Plus you'll see cow play with Magic and Pat's famous cow dogs...you haven't lived until you've witnessed a cow put it's nose on a big green ball!
HORSE AND RIDER MAKEOVER: (40 min.) At a recent Tour event in Tennessee, a Parelli Puzzles Session with Linda was about to begin..while Linda was still talking with students and attendees, Pat saw that Jerilyn was dealing with an unexploded bomb..So he advised her to turn the horse loose. What you'll see next is why Linda abandoned the Puzzles Session to help Jerilyn and Starbucks - the LEFT BRAIN HORSE who had turned into an impulsive RIGHT BRAIN NIGHTMARE!
BEHIND THE SCENES: (5 min.) "Why we choose Cover-All" with Pat and Linda.

Issue 24: March 2007 (unopened/new - But, I might watch it!)
COLT STARTING: PART 1
"First Ride - Parelli Way" (1 hr 3 min) with Pat, Jake and Blue, at the 2006 Savvy Conference USA.
Watch as Pat coaches one of his top students to start a young horse. The horse looks calm and quiet, but you'll quickly see that he's 'hiding'. Being an 'introvert' he goes inside of himself and freezes instead of running away. That doesn't sound very dangerous until it all becomes too much and then he explodes! As soon as Pat realizes that the horse is going more deeply inside, he takes over and does what only a Master can do. What you'll see is not your typical 'Friendly Game' of desensitization, it's a strategy that's all about not letting the horse 'go there' and helping him to accept the human and not be so scared. As they say in those extreme videos... PLEASE DONT TRY THIS AT HOME!
COLT STARTIN: PART 2 (48 min).
Now that the young horse has accepted the human, it's on with the next steps in Pat's formula of: accept the human, accept the saddle, accept the rider, accept the bit. Watching Pat urge Jake to do everything with a high level of quality underlines the importance of achieving mastery when playing with young horses.
BAREBACK LESSON: "Fluidity Focus" (9 min). with Linda and Yvonne, her sister!

Issue 25: April 2007 (unopend/new)
READING HORSE BEHAVIOR: "Introverted Horse-Memphis, Tennessee 2006" (1hr 12min). with Linda Parelli and 'Oreo'
From the first moment Linda meets Oreo in the arena and hears her owner describe her problems, Linda wows us all with her explanations of everything these behaviors reveal about this "introverted" horse. You'll see how Linda: interprets rolling, yawning, pawing; establishes rapport; seamlessly transitions to becoming the leader; plays the Seven Games as simulations for riding; and finally lets Oreo load herself into a trailer. It's a truly mesmerizing session!
INSPIRATION: Pat Parelli, Lauren Barwick and 'River' in a "surprise session" at the 2006 Savvy Conference in Colorado (27 min.)
At the 2006 Savvy Conference Pat invited Lauren to play with his Andalusian\TB mare, River, at Liberty and then mount up for a coaching session featuring extended trots, flying leads and more!
IMAGINATION: "Parelli Puzzle Solvers" with Pat Parelli, Carol Coppenger with 'Ranger' and Kalley Krickeberg with 'Barnum' (12 min.) Ready for some NEW ideas to play with this weekend? Watch Pat challenge Carol and Kalley to come up with creative ways to solve some very big and very little Parelli Puzzle challenges with their painted friends.

Issue 26: June 2007 (opened)
FREESTYLE/FINESSE: "Fluidity in Australia" with Linda Parelli and 'Two Socks' (1hr 5 min.) Get ready for the most up-to-date, "refresher course" on fluid riding, explained by Linda as she rides 'Two Socks' during the Australian Conference at the SIEC in March '07. Watch for an interesting Horse Behavior lesson at the beginning...Two Socks was afraid of applause from the 2000 predators in attendance and displayed threshold issues at the gate. Linda plays with him from the top of Zone 3 to help his confidence before demonstrating: "tit-for-tat," the "ponytail test," sitting and rising trot, canter, "change gait, don't change speed," the dynamics of turning your body to turn your horse, helping the horse to not throw himself into turns, Balance Point, shoulder-in, haunches-in, transitions and suspension rein for collection, and most importantly...when to quit!
NATURAL START: "Smart Seven's First Ride" with Pat Parelli and 'Seven' at the Florida Parelli Center (29 min.) "There's two things that horses typically have problems with: Confidence and Understanding Pressure." Taped during a demonstration for the Jan. '07 Colt Start students, this session reveals the famous foal, Smart Seven (August 2004 –March 2006 Club DVDs), experiencing his first ride under saddle with Pat. Pat plays with Seven at Liberty and talks about "getting the message and timing to the feet," and how to "wait for the weight." This session is beautiful to watch and shows the leadership necessary for a young horse under saddle. At the end of the session, they ride out of the corral, open a gate, and follow cows!
EXUBERANCE: "Smart Seven's First Tour Experience" with Pat Parelli, 'Aspen,' 'Seven' and 'the Dogs' (15 min.) Club Members at the West Springfield, MA event cheered with delight when Pat brought Seven into the arena. While riding Aspen, Pat plays with Seven at Liberty and talks about obedience, exuberance and Seven's progress from foal to first ride.
BEHIND THE SCENES: "Cutting At Liberty" with Pat Parelli and 'Casper' (1 min.) We all know Pat's motto..."Good, better, best...never let it rest..." Well, how about teaching your stallion to cut a cow...by himself...at Liberty!!

Issue 27: July 2007 (unopened/new)
MOVING MOUNTAINS: "Caton's First Liberty Demo with Casper" with Pat and Caton Parelli (13 min.) Horse lovers at the recent Detroit, MI tour event were treated to a very special first time demonstration. Even with a set program for the show, Pat is always looking for that something extra, particularly something you have never seen before... At this show, Pat decided to have his son, Caton, perform a Liberty demonstration with Pat's stallion, Casper, while riding Aspen (Caton's gelding). This session includes a special audio commentary with Pat and Caton so we can hear what father and son were thinking while the music was playing and the audience watched this inspiring and surprising event.
HORSENALITY "Left Brain Introvert! Detroit, MI 2007" with Linda Parelli and 'Beau' (2 hr. 7 min.) What is "Left Brain/Right Brain?" What is "Introvert/Extrovert?" The more you know how to read a horse's behavior, the more problems you'll solve, and the faster you will see results. In this session Linda meets Beau, a Paint/Hanoverian gelding that... "is stubborn, pushy, bucks when asked to move forward, fidgets with everything, is difficult to trailer load and cannot be caught in or outside of an arena!" "It's very easy to get into a fight with a horse like this..." Linda says, but a fight is the last thing on her mind. The answer lies in patience, a sense of humor, getting his attention and curiosity and most importantly, knowing how to "outsmart the smarty!" This segment also includes special Q&A audio commentaries with Linda.
BEHIND THE SCENES: "Angelina Gets A Pony! " with Pat, Caton, Marlene and Angelina (3 min.) Share a moving and precious moment with Granddaddy Pat and his son Caton, daughter Marlene, and little Angelina at the Western States Horse Expo, June 2007.

Issue 28: September 2007 (unopened/new)
NATURAL RIDE PART 1: "Accept My Leadership" with Linda Parelli and 'Beau' – Detroit, Michigan (30 min.) Linda and Beau meet again on Day 2 of the Michigan 2007 USA tour event (see Day 1 in July Club issue DVD). Linda asked Beau's owner, Kelly, if she could ride this Left Brain, scheming, dominant horse for her riding session.
"Everything's fine until you ask this kind of horse to do something. You have to figure out how to get things done without it turning into a fight and without picking on him and him not picking on you..."
NATURAL RIDE PART 2: "Accept My Saddle" with Linda and 'Beau'(47 min.) "Does this horse look rideable?" See how Linda deals with Beau eating her gear while saddling, and why the teaching doesn't stop when the saddling begins. Can he walk, trot and canter under saddle without it being a problem or Beau getting upset? Can he synchronize with Linda on the ground... walk when she walks, stop when she stops, back when she backs? Learn with Linda as she looks for "calmness, obedience, connection and acceptance."
NATURAL RIDE PART 3: "Accept The Rider" with Linda and 'Beau'(43 min.) Linda mounts up for a riding session with Beau — lateral flexion, passenger lessons, focus games, phases to go, transitions and energy thresholds. Then see the final trailer loading session after the show where Kelly gets to load her new Beau.
IN YOUR SHOES: "Meet Katie Drake" (Pat's niece) with Pat, Linda and Katie (6 min.) Watch Katie's Savvy Club debut with Linda and Remmer riding to her new song, "In Your Shoes."
BEHIND THE SCENES: "Angelina's First Canter!" (6 min.) with Pat, Magic and baby Angelina(6 min.) Pat helps Angelina experience her very first canter with Magic during the Reno, Nevada tour event held in July this year

Issue 29: October 2007 (unopened/new)
From the 2007 Savvy Conference in Pagosa Springs, Colorado, watch Pat and Linda play with their top "Horsenalities" plus a special session with Kalley Krickeberg and Evolution (2 y/o Left Brain Extrovert).
Part 1 – "Left Brain Introvert" (17 min.) with Linda Parelli and Remmer.
Part 2 – "Left Brain Extrovert" (20 min.) with Linda Parelli and Allure.
Part 1 – "Right Brain Introvert" (32 min.) with Pat Parelli and Magic.
Part 1 – "Right Brain Extrovert" (35 min.) with Pat Parelli and Vanna, plus Casper, Kalley and Evolution.

Issue 30: December 2007 (unopend/new)
LEVELS 1 and 2 "Ride In! - The cure for boring and repetitive arena sessions!" (30 min.)
Coaching Session with Linda Parelli, Vonni & Escada Linda's sister, Vonni, and Escada (Vonni?s Left Brain Introvert Arabian mare), are studying Level 2 and both think that arenas are boring! Escada gets sluggish, bucks or stops, and Vonni goes "brain- dead" and loses her imagination. In this session, Linda coaches Vonni on how to use arenas to have more fun and encourage more obedience from Escada through better leadership. Linda talks about balancing playfulness with obedience and uses the Seven Games: forwards; backwards; circles; straight lines; transitions; weaving in and out; cones; arena rails; and trotting poles; to balance impulsion and challenge Vonni's leadership skills. (It's pretty funny watching Escada display her Left Brain Introvert tactics like bucking and Karate kicks!)
LEVELS 3 and 4 "Ride In: Advanced Session" (8 min.)
Anja Weiler & Eliice at the 07 USA Savvy Conference In this session Linda introduces Parelli Professional, Anja, and her Danish Warmblood, Eliice, and challenges them to demonstrate a "Ride In" session - bridle-less!!
LEVEL 4 "Confidence Development" (30 min.)
Kalley Krickeberg & "The Babies" at the 07 USA Savvy Conference.
Pat's top assistant, Kalley, leads the Parelli "Pre-School" Program at Atwood Ranch in California, and in this session demonstrates just how much is possible with young horses... While riding her mare, JJ, Kalley plays with Sunshine (12 months), Powder (12 months), Dixi (14 months), Gracie (14 months), and Country Girl (16 months) and blows everyone's socks off, including Pat and Linda's! Watch for a very special surprise at the end of the session... there wasn't a dry eye in the building!!

Issue 31: February 2008 (opened)
A Million Transitions * De-Spooking * Transitions on the Ground * Step on a Target * Meet Zeus

Issue 32: March 2008 (unopened/new)
Backing Without Reins * In the Mood for Haltering * Hoof Prep * Prescision Pen Yo-Yo Games * Meet Zeus Part 2

Issue 33: April 2008 (opened)
Push a Ball * The Pinky Test * Games w/a Gate * Emergency Dismount * Lesson w/Linda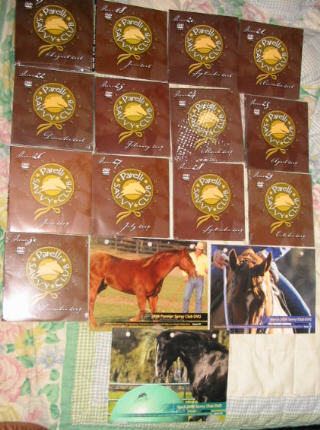 Terms: I only use UPS when shipping. UPS comes to my place of business daily, so turn-around on shipping thes boots will be very quick. UPS does not ship to PO boxes, so make sure and provide me with a physical shipping address.
Insurance will be included with the shipping cost which is figured by the weight of the package and your zip code.

Please pay for this item within 3 days of winning it! I accept payment through PayPal only!

All Sales Final!
So, please do not hesitate to ask me any questions.